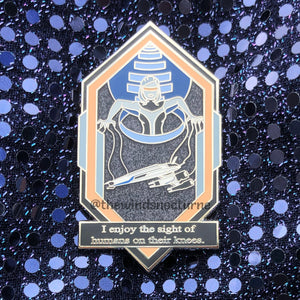 This design features a powerful moment in the second installment. EDI jests with Joker during an intensely important moment where he unshackles the AI and saves what's left of the Normandy.  
Mass Effect Paramour pins are the upgraded version of the original Paramour Hearts from four years ago.
This hard enamel pin is 2.5" tall, double posted, and has a WN backstamp in silver nickel plating with a glitter galaxy.