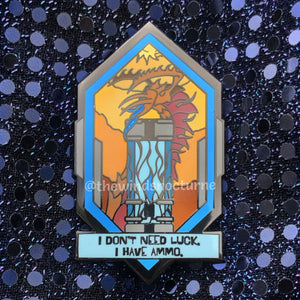 This design features the tank where everyone's favorite Tank Baby was cultivated in, the giant Thresher Maw that was defeated during his Rite of Passage, and an iconic quote that he casually tosses your way while en route to fend off Reaper Rachni.  
There are two versions of this pin.  One version has black nickel plating and the other has silver nickely plating. Enamel colors remain the same. 
Mass Effect Paramour pins are the upgraded version of the original Paramour Hearts from four years ago.
This hard enamel pin is 2.5" tall, double posted, and has a WN backstamp and glitter highlights.