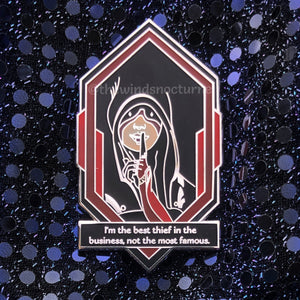 This design features our favorite space rogue, Kasumi Goto, disappearing into the shadows like a secret. The galaxy may not know her name, but they are affected by her deeds with the Crucible.  
Mass Effect Paramour pins are the upgraded version of the original Paramour Hearts from four years ago.
This hard enamel pin is 2.5" tall, double posted, and has a WN backstamp in silver nickel plating.