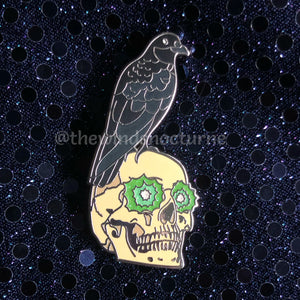 Ocularum & Crow: A silver-plated hard enamel pin with glitter accents that is 2" tall, this pin features the Ocularum skull and the Crow symbol that permeates the series.

Crows represent transformation, destiny, and change. With their watchful ways, they have intuitive foresight. Crows are seen and referred throughout the series in many places but most curious to me is Dirthamen, the elven god of secrets, who rides a large black crow.

These crows show up at key points and are easy to miss. If you are watchful, you may see them.