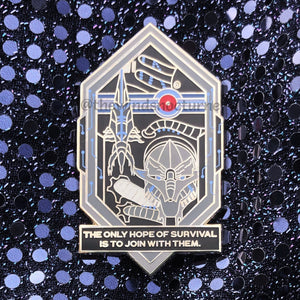 This design features Saren Arterius. He wanted to save the galaxy and did it the only way he saw possible, by cooperating with the Reapers. By the end, he was more machine than he was turian, but he was able to take control of his autonomy at the very end. 
Mass Effect Paramour pins are the upgraded version of the original Paramour Hearts from four years ago.
This hard enamel pin is 2.5" tall, double posted, and has a WN backstamp in silver nickel plating with screen printed details.