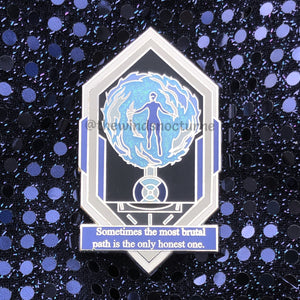 This design is a mashup of the first moment when you meet Dr. T'Soni and one of the final moments, when she presents you with her time capsule with the help of Glyph.  Liara experienced tremendous growth from the doe-eyed doctor to the capable Shadow Broker. 
Mass Effect Paramour pins are the upgraded version of the original Paramour Hearts from four years ago.
This hard enamel pin is 2.5" tall, double posted, and has a WN backstamp in silver nickel plating with glittery biotic blue.