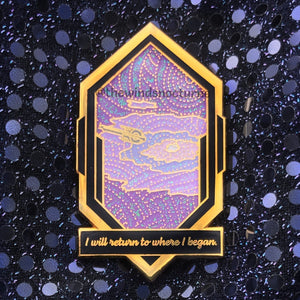 This design features Tali Zorah vas Normandy and her Quarian fleet returning to Rannoch for the final confrontation with the Geth. This was a powerful moment in the trilogy where all of your choices either added up, or didn't. Tali could have returned to her home planet as an Admiral or an exile, and either she or Legion (or his stand-in) would share their last moments with Shepard. In the end, we all return to where we began. 
Mass Effect Paramour pins are the upgraded version of the original Paramour Hearts from four years ago.
This hard enamel pin is 2.5" tall, double posted, and has a WN backstamp and a glitter galaxy. There are two plating options for this design. The enamel colors are the same, but the plating makes them look different. You have the choice of gold or silver nickel plating.