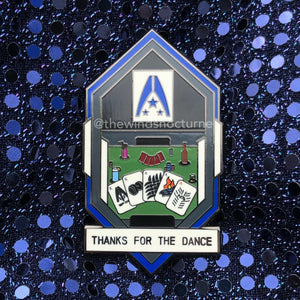 This design features James Vega and his ability to relax amidst galactic turmoil. Fierce, forward, and unshakeable, Vega is a solid teammate to have aboard the Normandy. Thanks for the dance.
Mass Effect Paramour pins are the upgraded version of the original Paramour Hearts from four years ago.
This hard enamel pin is 2.5" tall, double posted, and has a WN backstamp in black nickel plating and screen printed details. 
*Every purchase of a Vega Paramour pin during April 2022 will be accompanied by a Vega Heart from the first line while supplies last.*